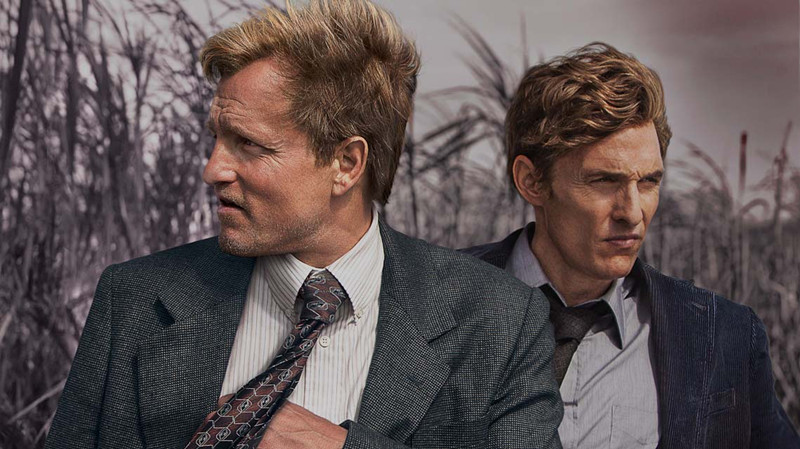 After the Civil War, the South was no longer an epicenter of trade and commerce. Its failure to win the war plunged it into economic and technological turmoil from which it has arguably never fully recovered. For this reason, the South has long been considered to be backwards, anti-intellectual, poverty stricken, and highly religious.
One way these ideas have been disseminated is through the medium of film. If these stereotypes have been reinforced in movies they have also to a certain extent been dispelled by them. Southern Gothic films are characterized first and foremost by their setting in the American South and the eccentricities of its denizens.
These films function as an attempt for the new or modern South to come to terms with its legacy of slavery and racism of the Antebellum South and subsequent years of Jim Crow laws that ended with the death of Martin Luther King Jr. and the passage of civil rights for African Americans into law. These films also address other regional and taboo subject matter including religion, incest, suicide, homosexuality and murder that are often connected to buried family secrets; they provide a window into the rich and sometimes violent and fascinating tapestry of southern culture, including its nightmares.
In other words, it introduces viewers to the more sinister, lewd, grotesque and corrupt elements found in the South; parts of the South that are not associated with the refined, courtly and grandiose connotations of the pre-Civil War era. The South, then, becomes a repository for forbidden desire and murderous excess in a region known for what Flannery O'Connor, a southern writer who often combined southern gothic elements with an emphasis on religious themes, called the "Christ haunted South."
In addition to O'Connor, William Faulkner, Carson McCullers, Harper Lee and Truman Capote also contributed literary works to the genre. The popularity of television shows such as True Blood and American Horror Story: Coven, both set in Louisiana, are two recent incarnations of southern gothic excess that continue to fascinate viewers and delve them into nightmarish landscapes that mingle the past and present, the sordid and virtuous, the horrific and banal.
Borrowing some of the tropes of gothic literature–haunted mansions and castles, forbidden desires, preoccupations with the past, and occasional nods to the supernatural, gothic elements are transposed to the deep South in an attempt to make sense of it's complicated and dubious cultural legacy.
When dealing with a specific region in America such as the south, stereotypes are sure to arise, so that in an interesting way characters are sometimes relegated to caricatures and end up revealing more about the filmmaker's own prejudices and by extension those of many of the viewers as well.
Therefore, films that offer a critique of the South without falling into stereotype reveal the complexity and diversity of people who inhabit the southern landscape it purports to represent. If the South is indeed haunted by its flawed and sinful past, it has also generated and contributed to an enormous wealth of literary, political and artistic writers and thinkers.
20. The Skeleton Key (2005)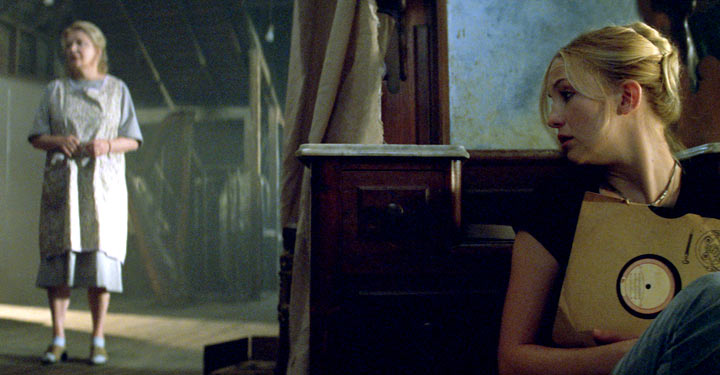 The Skeleton Key is set in the swamplands of Louisiana and contains more obvious gothic supernatural elements than other films on this list. Caroline Ellis is a home nurse who is hired to take care of an elderly man named Ben Devereaux (John Hurt) who has had a stroke and living in a spooky run down plantation. Caroline is hired by his wife, Violet.
The mystery revolves around the strange behavior of Ben and his wife. Violet tells Caroline that the house is haunted; however, Caroline's lack of faith and belief in the occult prevent her from blindly trusting and accepting the beliefs of the old woman.
The film starts to pick up momentum as Caroline starts researching the history of hoodoo. The religious practices of hoodoo are generally benevolent and viewed as good magic, unlike voodoo, which is often associated with dark magic.
The beginning of the film shows a scene from the past in which two slaves and the owner's white children are practicing hoodoo in the attic. When caught, the slaves are hung outside from an oak tree. Caroline's belief, and what really happened to the slaves, provides the surprise twist at the end.
19. Sweet Bird of Youth (1962)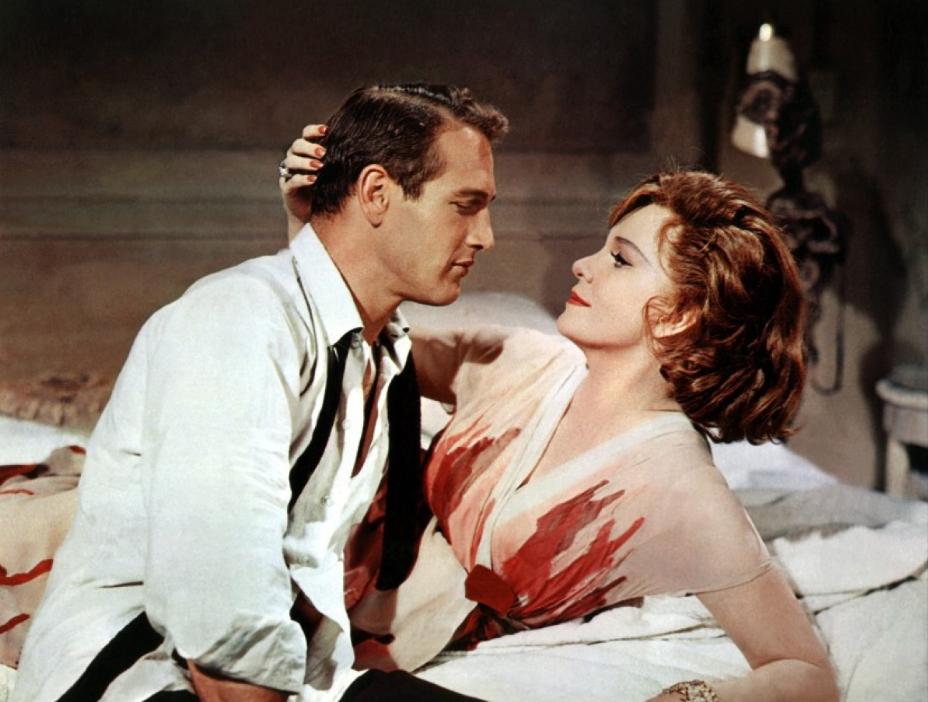 This was Paul Newman's second collaboration in a Tennessee Williams' film adaptation; the first being his role as Brick in Cat on a Hot Tin Roof. While Cat on a Hot Tin Roof is more widely known and in some ways a better film, the southern gothic elements in Sweet Bird of Youth are more melodramatically apparent.
Like the name of Newman's character suggests, Chance Wayne believes he can win back Heavenly Finley, the daughter of "Boss" Finley who ran Chance out of town years before. Boss Finley, played by Ed Begley, is a corrupt and hypocritical politician who maintains a political platform railing against "indecency" and sexual immorality, while he engages in nefarious dealings and keeps his mistress, Lucy, in a hotel for his own pleasure.
When Chance returns, he is accompanied by Alexandra Del Lago, an aging movie actress who is addicted to hashish and alcohol. Chance believes she's his ticket to making it big in Hollywood. As Alexandra understands: "There's no place to retire to when you retire from the movies. No place. Except oblivion." Much like Blanche in Streetcar, Alexandra is looking for another opportunity, just as Chance is, to revive her life and career.
The film reveals the corrupt nature of politics in a small town in the South where power is in the hands of a few prominent families, and the attempt of a father to maintain the appearance of his daughter's chastity and his own virtue. The ending differs significantly from the play on which it's based: in the film Chance and Heavenly escape together. What happens in the play is alluded to early on by Boss Finley when he says to Chance, "I once had a dog called Prince. I had to butcher him to keep all the bitches in town from being violated."
18. Winter's Bone (2010)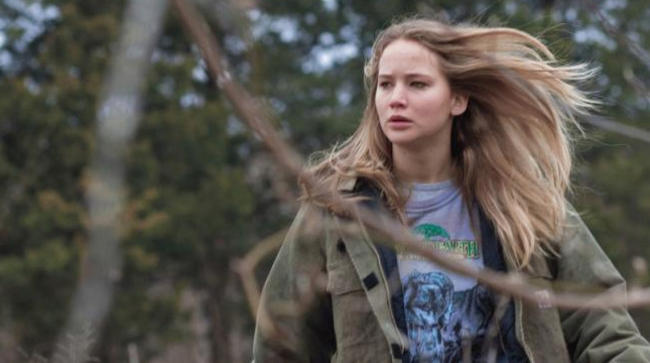 Winter's Bone dispenses with beautiful gothic shadows and romantic dialogue and instead offers viewers an unpleasant and more realistic glimpse into the poor backwoods lives of some poor Ozark inhabitants. Ree Dolly is on a search for her father who has skipped bail and put up the family's house as collateral. Ree is on a mission to find out where her father is and encounters obstacles from friends and family who are less than helpful in locating him and the truth behind his disappearance.
Jennifer Lawrence as Ree provides the ethical center of the film as she risks her own life to ensure the safety of her family. It's one of the few films to show both the devastation of crystal meth in the South and how for some its production and distribution is a necessary evil and means of survival.
17. Cape Fear (1991)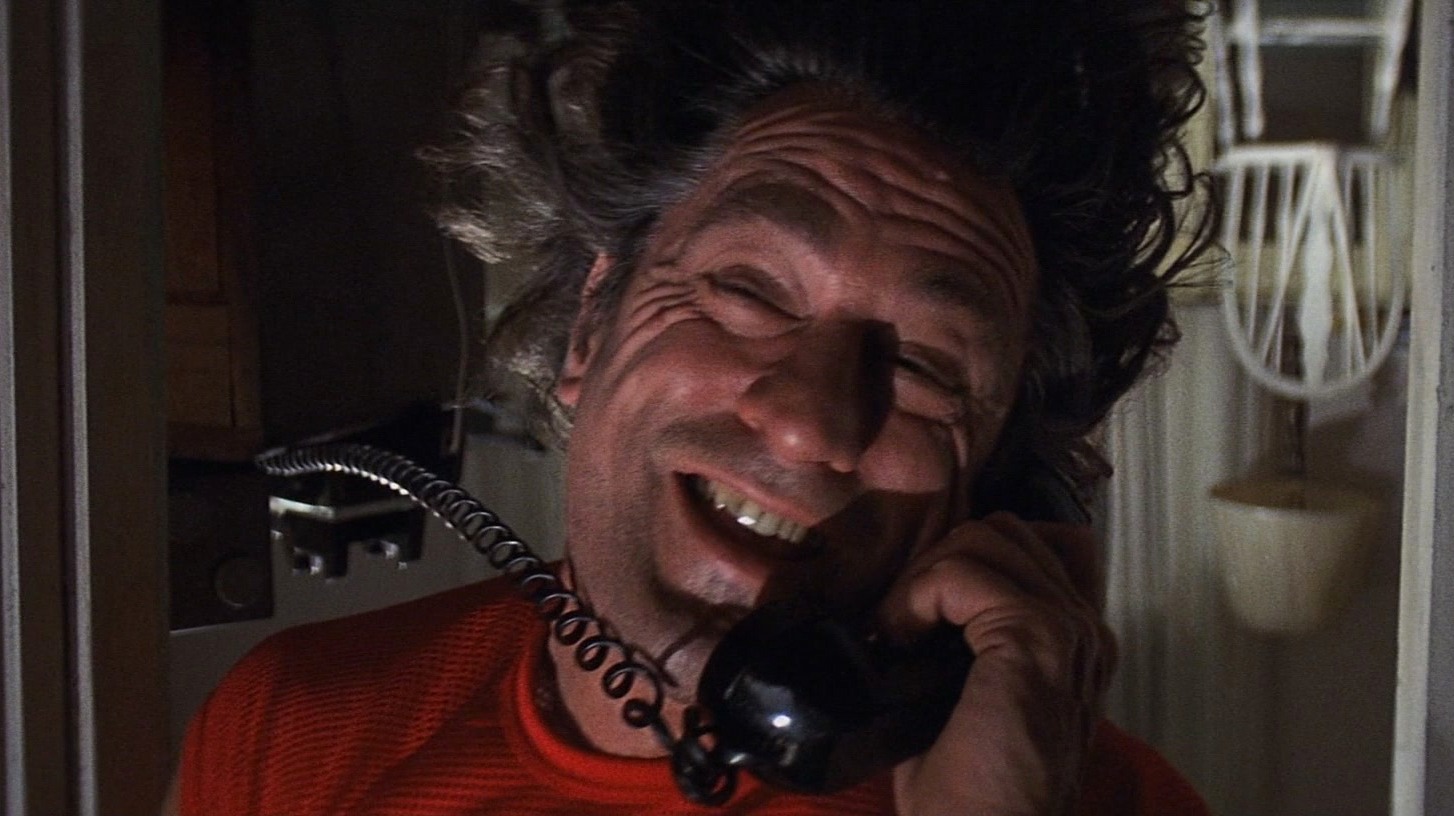 Martin Scorsese directs this remake of the 1962 film. The original film stars Gregory Peck as the lawyer and Robert Mitchum as the revenge-seeking ex-con; both Peck and Mitchum play minor roles in the remake.
Nick Nolte in the updated version plays lawyer Sam Bowden, who planted evidence in the case of the client he defended, Max Cady. Robert De Niro plays Cady, a malicious violent man who quotes the Bible in order to justify and make sense of his retributive actions. De Niro creates a character who is in part a vicious product of a brutal incarceration and a fallible and at times unjust legal system.
As in many of the films on this list, southern retribution and compensatory measures often take place in the backwoods, the illegitimate courtrooms not recognized by judicial law of "civilized" houses of justice. In typical Scorsese style, the film revels in melodramatic violence and De Niro gives a compelling and sadistic performance. The scene in the high school theater between De Niro and Juliette Lewis is disturbingly erotic and reveals Cady's alluring, furtive and villainous sexual appeal.
16. Midnight in the Garden of Good and Evil (1997)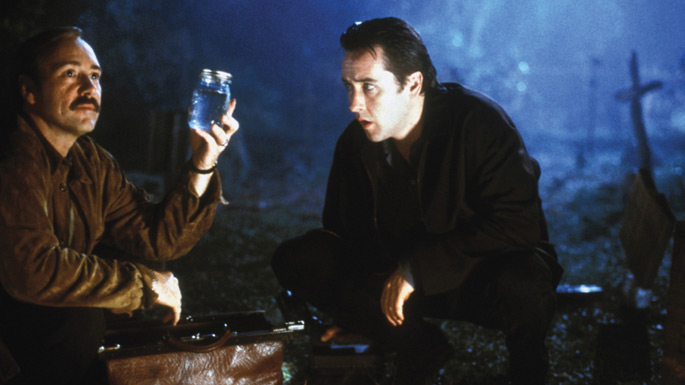 "You mustn't be taken in by the moonlight and magnolias. There's more to Savannah than that. Things can get very murky," says Jim Williams in John Berendt's bestseller, adapted into a film starring Kevin Spacey, John Cusack and Jude Law. Williams's comment hints at the dark corners of the otherwise beautiful gardenlike, riverfront town that has more than its fair share of hidden secrets and mysteries.
The film weaves together an assortment of odd characters, anecdotes, voodoo, and murder to create a film that doesn't live up to its literary namesake but does capture the eccentric nature of its characters and environs. While it does boast a good cast, it is the on-set locations and real life Lady Chablis, who plays herself, that make this movie a fun viewing experience.
15. Frailty (2001)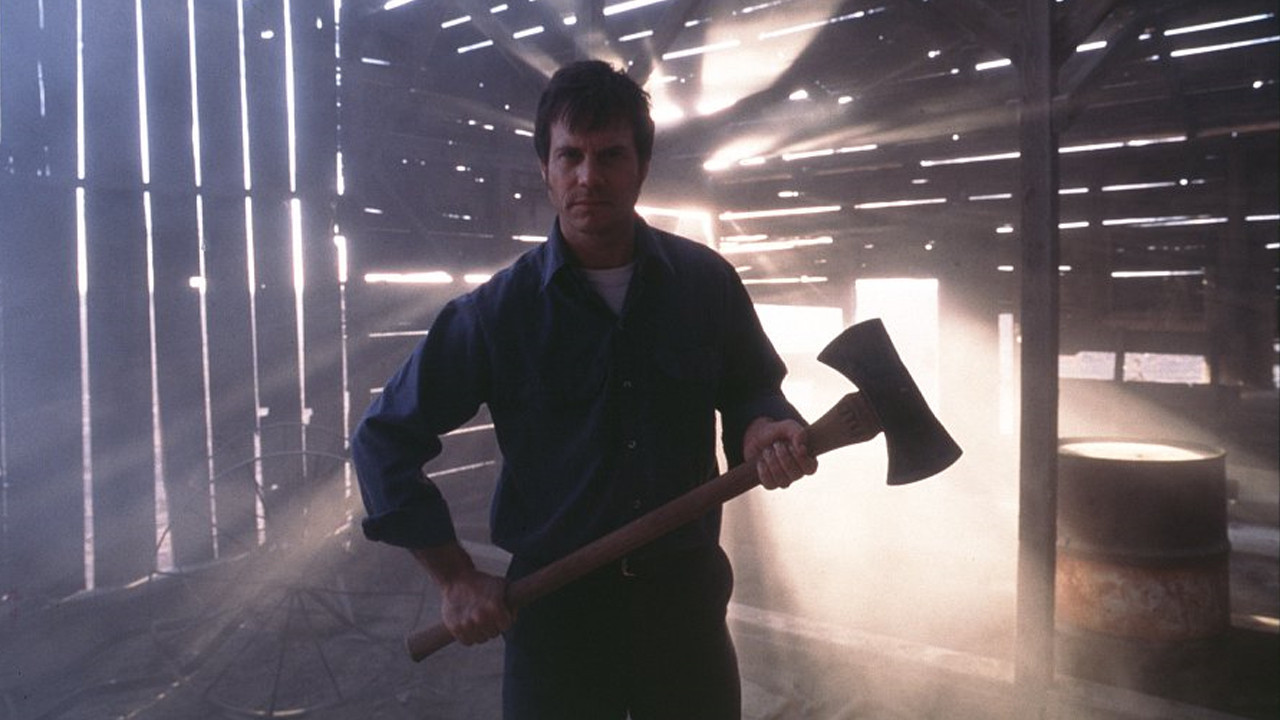 Like several films on this list, Frailty problematizes the inherent violence of religious fundamentalism only to have viewers question their assumptions about good, evil, and divine intercession. Bill Paxton plays the widowed father of two young boys, Fenton and Adam Meiks. In the middle of the night, he wakes his sons to tell them that he has had a vision from God.
In this vision, has been told that the end of the world is coming and he has been assigned a mission to eradicate demons that take the form of people. Referring to the family trio as "superheroes, " they alone, he believes, have the ability to see the demons that others cannot. Fenton, the oldest son, represents the viewer who understandably questions the sanity of the father.
The crux of the film is essentially that of faith and doubt, embodied respectively by the father and son. The religious fanaticism of those who believe they are divine messengers or prophets on a holy mission from God is both questioned and complicated by the somewhat surprising denouement.